Pine Cove Consulting earned the national White Hat Award from Channel Partners for its exceptional cybersecurity and physical security offering.
Introduced in 2019, the Excellence in Digital Service Awards recognize partners who deliver stellar business outcomes for their clients. Recognition is provided in 10 categories, with an additional award presented for special achievement among all applicants.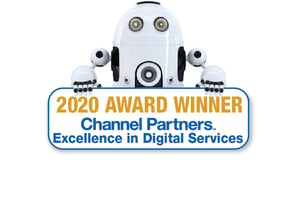 Pine Cove Consulting was awarded the White Hat Award for its commitment to protecting its customers from cyber-threats and providing physical security through video surveillance projects.
"We had the great opportunity of helping many organizations secure their assets with top-of-the-line cybersecurity and physical security solutions," said Brandon Vancleeve, VP of Pine Cove Consulting. "Security threats are evolving faster than ever, and providing a sense of security to our customers is fulfilling and motivating for us as a company. We appreciate the recognition from Chanel Partners and look forward to providing more security and peace of mind in the coming years."
The awards are open only to channel partners — agents, VARs, dealers, SIs, MSPs, consultants and other partner firms.
Applicants submitted case studies of projects they had completed in the previous year. Submissions were judged by the Channel Partners editorial staff and members of the Channel Partners Advisory Board.