What is evolving faster, hackers' attack tactics, or cybersecurity protection? I'm not sure I have the answer, because both have evolved significantly over the past few years. The cybersecurity protection of even a few years ago has evolved and changed as hackers have implemented more never-before-seen attacks. Legacy, signature-based, protection is a thing of the past and has been replaced with deep learning technology accompanied by human-led threat-hunting. One of the hardest things about cybersecurity is identifying where the gaps are in your cybersecurity posture. To combat this problem, we are excited to announce our newly developed Cybersecurity Gap Analysis Report.
The gap analysis report, available to any customer who has purchased any Sophos product from Pine Cove Consulting, identifies possible gaps in your cybersecurity posture by pitting your cybersecurity protection against the known threats of today.
In this report, your organization is given a overall cybersecurity score and individual cybersecurity scores based on your organization's endpoint, server, firewall, mobile and email protection. The purpose of this report is to educate and inform organizations on the evolution of both the threats and the cybersecurity protection.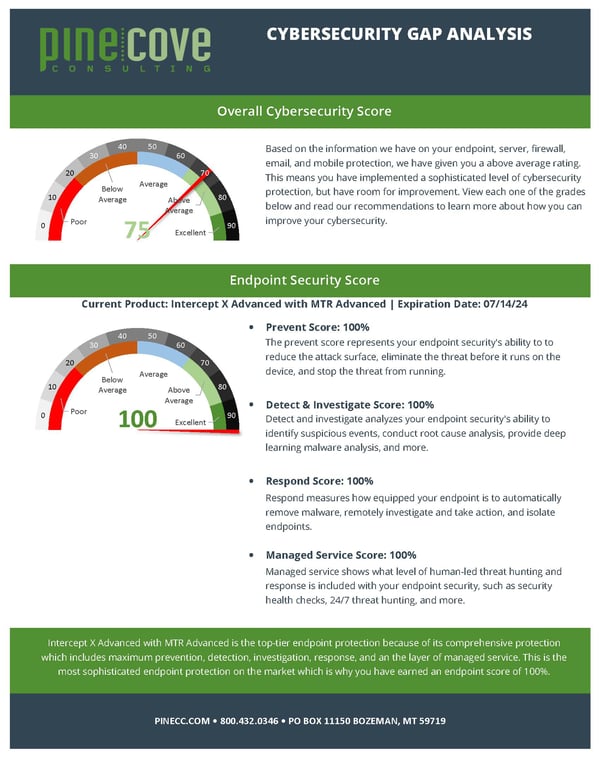 Pictured above: Portion of example Gap Analysis Report
As a Sophos Platinum Partner, we are aware of the changes within Sophos' product and service offerings. In the last few years, Sophos has increased its offerings and its technology has evolved quite significantly. The gap analysis takes all these changes into account and presents you with personalized, evidence-based, recommendations for your cybersecurity posture.
If you are interested in receiving your personalized Gap Analysis Report, please reach out to your account manager, or email sales@pinecc.com.