In our previous post, Chromebook vs Laptop - Which is Right for your Classroom, we gave you a few reasons why Chromebooks are a better choice for your classroom. There is an argument to be had that Chromebooks are not the best option in every case, and we agree that special circumstances might merit your school use laptops. We also acknowledge that laptops allow you to download/install any application and Chromebooks limit you to online based applications. However, given the demands and use of technology in the classroom, we recommend Chromebooks in the classroom for simplicity, durability, and ease of management. Don't only take our word for it though. Chromebooks are gaining more market share year after year. According to FutureSource Consulting, in the K-12 education sector, Chromebooks had a 58% market share in 2016 which was up from a 50% market share in 2015 and a 38% market share in 2014 (see graph below).
Chromebook vs Laptop | Chromebook Classroom Management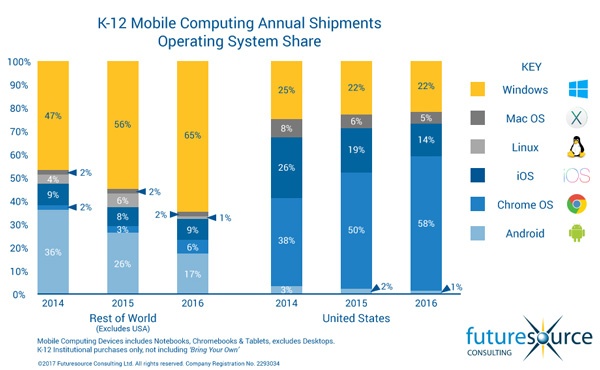 Why the sudden growth of Chromebooks in education? There are several reasons. Google has heavily invested in the education sector, Chromebooks sell at low costs and with Google's simple to use management console, and Google has really catered their sales package to schools in a very appealing way.
In this post I want to expound a little more on our previous point which was that Chromebook classroom management eases the burdens of the management while meeting all of the demands that are required from the technology.
Chromebook Classroom Management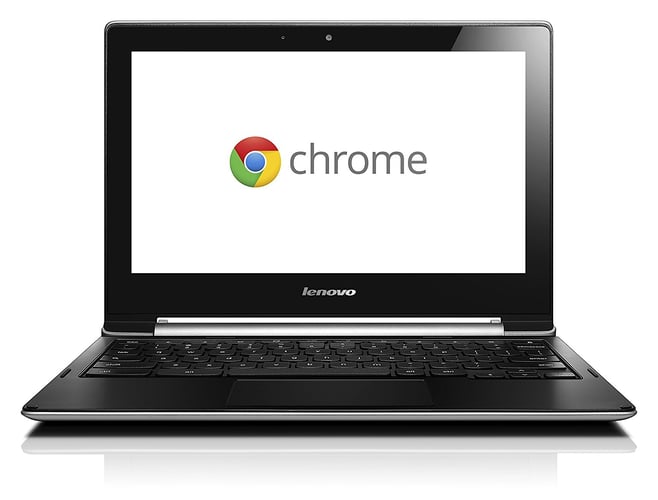 What makes a Chromebook better to manage in the classroom comparable to a laptop? Google has implemented a simple, web-based, Chromebook classroom management console that allows management of 10s, 100s, or even 1000s of Chromebooks with ease. Some of the features of this management console include the ability to track assets, pre-install and block applications, create user groups, control user access, configure network access, and customize user features. Basically, it gives you all the ability you'd need to successfully manage your school's Chromebook technology.
Microsoft and Apple have not yet released a comparable management system for their laptops but both have plans to announce their management systems in the near future. Microsoft is currently working on their version of Google Management Console called 'InTune.' Apple has also tackled the challenge of the Chromebook by releasing several applications including the 'Classroom' app' which connects teachers and students through iPads.
While Microsoft and Apple play catch-up to Google's already proven management console, Google's influence in education has grown tremendously. A lot can change quickly in technology but for now it seems Google's Chromebooks are the best option for your classroom management system.
Final Thoughts
When weighing the pros and cons in the Chromebook vs laptop debate, the ease of Chromebook classroom managment is one of the factors that lifts the Chromebook above the laptop. Google currently has a stronghold in the education industry and, while Microsoft and Apple are innovating new ways to improve their market share, it seems that there is no forseeable change in Google's domination of the education sector.
Fore more information on technology in the classroom read:
Chromebook vs Laptop - Which is Right for your Classroom?
How Important is Technology in Education? Pine Cove's Top 10 Reasons
Sign up for a FREE Chromebook consultation for your school district: