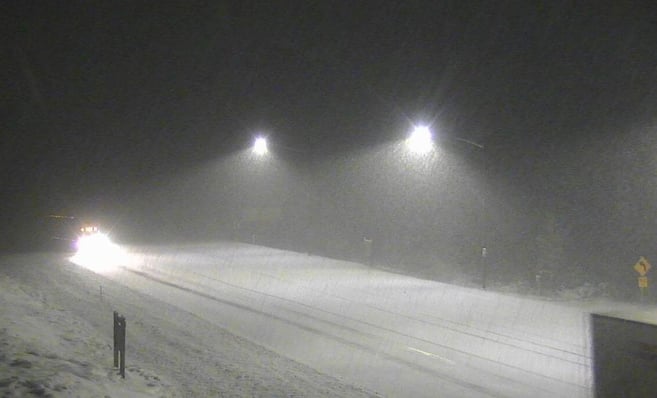 In a previous post, Advantages of Video Conferencing Equipment, we highlighted some key benefits of implementing video conferencing technology.
The main benefits we highlighted were improved communication, saving time and money, and having comprehensive technology. It's that time of the year to add one more advantage to that list, weather. Yes, I know it's just October but we in the northwest know all too well that the time to prepare for winter is now. Parts of the Northwest have seen up to 30 inches of snow since the start of October. Havre broke the record for the most snow in a two day period in October.
8:30am. Difficult conditions in Havre early this morning. Widespread power outage. Snow is ending. Photo courtesy Ann Kulczyk #mtwx pic.twitter.com/HHbZkXc2I8

— NWS Great Falls (@NWSGreatFalls) October 3, 2017
If Havre isn't going to convince you, check out these other snowfalls that have occurred since the beginning of October (courtesy of the Weather Channel):
30 inches in Rocky Boy, Montana
20.4 inches near Encampment, Wyoming
18 inches near Steamboat Springs, Colorado
16 inches near Cameron Pass, Colorado
15.8 inches near Havre, Montana
Up to 15 inches near Breckenridge, Colorado
14 inches at the Vail Pass rest area on Interstate 70 in Colorado
14 inches near Redcliff, Colorado
14 inches in Zortman, Montana
14 inches in Cut Bank, Montana
13 inches in Havre, Montana (Havre City-County Airport)
13 inches near Rand, Colorado
12 inches near Laramie, Wyoming
10 inches near Avon, Colorado
These snowfalls lead to power outages across towns and cities every year. In many instances businesses are forced to shut down their operations. It's not a matter of if weather will impact your business, it's a matter of when it will. The truth is that during these days, when your employees are barricaded inside or the roads are treacherous, you could be losing profit and missing important meetings. It isn't always feasible to meet face to face anymore. Video conferencing technology helps mitigate those damages caused by unforeseen circumstances such as weather.
Introducing Lifesize Video Conferencing Technology
Pine Cove Consulting has a strategic partnership with Lifesize. Through that partnership we can provide our clients a solution to their weather crises as well as other unforeseen circumstances. Some organizations use our technology to conduct meetings across the world, others use it internally to communicate with their employees when they are not available in the office. Here at Pine Cove Consulting we have 19 employees stationed in over 10 different locations. We are able to communicate with all of these employees through our use of both physical Lifesize equipment and also their app which allows us to communicate seamlessly regardless of location or device.
Maybe it is time to create your winter business plan while improving your communication strategy. Contact us for a demo or more information.