According to GlobalWorkplaceAnalytics.com, there are now 3.7 million employees that work from home at least half of the time. This is a 115% increase since 2005. This increase in telecommuting has led to many great benefits for both companies and employees. However, this increase has also left management to determine how they can best communicate with these telecommuters. Pine Cove Consulting understands this dilemma as they have 23 employees stationed in 10 different locations across the Rocky Mountain Region.
To accommodate all of the telecommuters, Pine Cove Consulting has embraced the potential of video conferencing equipment. According to the Billings Gazette, "Pine Cove Consulting, which designs and manages technology solutions for school districts and private business throughout the region, just might be the poster child for the work-at-home movement." With the sophistication of VOIP phones and ease of email communication, why is video conferencing important to an organization? Let's review a few of the advantages.
Advantages of Video Conferencing Equipment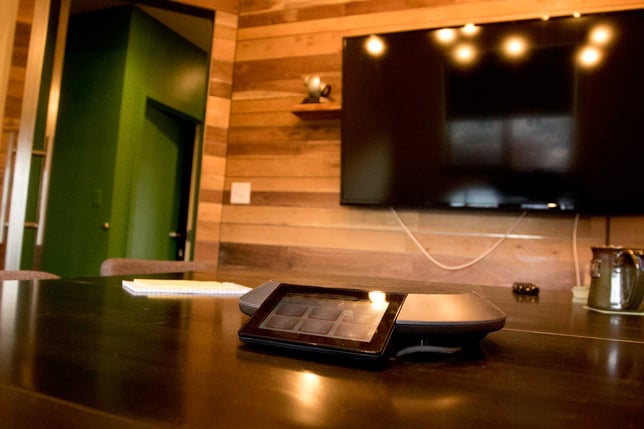 Advantage 1: Improve Communication
Organizations live and die according to how well they can communicate with their co-workers and clients. While video communication may not substitute or replace current phone and email communication, it can enhance any organization's ability to communicate both internally and externally. "This video medium allows us all to get together, and it's fantastic," said Rick Vancleeve, founder and chief executive of Pine Cove Consulting. Pine Cove Consulting relies on Lifesize's App, Icon Series camera, and Phone HD, to have monthly company meetings with their 23 employees stationed in more than 10 different locations.
Organization's use video conferencing equipment for many other purposes as well such as:
• Conducting employee reviews
• Conducting company interviews
• Recording important messages to send out to employees
• Connecting and networking with clients who are not easily accessible over email or phone
Organization's must always consider how they can better improve communication. Video conferencing equipment just may be the solution to your communication barriers.
Advantage 2: Saves Time and Money
One of our clients, Comfort Company, also uses Lifesize's video conferencing equipment to meet communication demands. "Lifesize's cloud-based software application and their camera and phone systems has provided a scalable, cost-effective video conferencing solution that is above and beyond any solution we have used before — and we're reaping the rewards just in time," says Eric Murphy, marketing director at Comfort Company. The Comfort Company has used video conferencing to conduct interviews which has significantly cut down the costs of flying the employment candidate to their office and putting them up in a hotel room for the night.
Communicating over email and playing phone tag can eat up precious time that could be spent doing other, more important tasks. Video conferencing has consistently proved to be an effective alternative by allowing employees to quickly contact their clients and co-workers in the comfort of their own office or home without waiting for a response or taking a lot of their time.
"In an email, you can't tell the tone. And when you're on the phone and you're trying to get collaboration between individuals, you can't see their facial expressions," Vancleeve said. "I feel this is the best method. If you need to bring somebody else into the conversation, you can do it without taking up a lot of their time."
Advantage 3: Comprehensive Technology
Video conferencing technology is robust and sophisticated. Whether you are looking to do a one-on-one conference call or looking to have a company wide meeting, today's technology can meet the demand. In fact, today's technology allows users to integrate their current use of Outlook or Google calendar, Skype for Business, and Lync into their video conferencing technology.
Pine Cove Consulting uses their video conferencing technology to record important meetings, success stories, and internal memos for rebroadcast among their employees. These are just a few of the many features that today's video conferencing technology offers.
Conclusion
If you haven't thought about a video conferencing solution for your organization, it may be time to consider the benefits. Meet today's communication demands while saving time and money with a comprehensive video conferencing technology solution.
For more information about Pine Cove Consulting's solution or if you would like a free demo, contact us today.
See how one company took advantage of video conferencing by reading their case study.