The Tech Student of Year Scholarship is now closed, and we are happy to announce 13 winners from across the Rocky Mountain Region. This year was outstanding; Pine Cove gave out an extra $3500 thanks to many $500 donations and one exceptional $1500 contribution.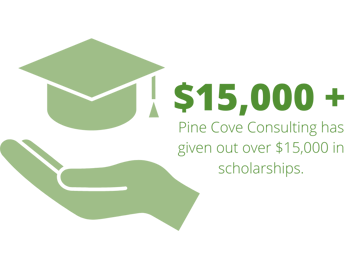 We want to thank a Pine Cove Employee, Kyle Thompson, Ruckus, Newline, and Sophos, for each contributing a $500 scholarship. We would also like to thank Securly, who provided $1500 in scholarships.
Securly is a student safety company. Their services scale to any school, helping them solve the most complex issues facing students and safe. Securly offers student wellness, device management, community engagement, and hybrid learning.
For one winner, Nolan A. from Wyoming, Securly's Chief Revenue Officer, Jon Moody, announced the scholarship. They talked about computer science and their love for technology. The school's Career Technical Instructor nominated Nolan because of his leadership in programming classes. Nolan often assists younger, less experienced classmates. Nolan is attending college and hopes to focus on cybersecurity.
Cedric from Montana, whom multiple teachers nominated, won a $500 scholarship. Cedric is a role model for other students and has excelled in all his classes. He and his fellow students are working on building a robot for their local fire department. The robot will detect human life and help the firefighters find and save lives quicker.
Kylie From Colorado is an active student who participated in numerous extracurricular, including an Educational Tech Committee, where she has helped solve complex problems for her district. Kylie spearheaded a campaign to provide computers and internet for lower-income students during COVID-19. Kylie will study Engineering in the fall and is most excited about Physics. She is a role model for other students interested in the technology field.
Matthew from Wyoming participates in numerous community activities. He runs the technology for his church, delivers meals on wheels, and plays TAPS at military funerals, to name a few. Matthew has taken several computer science classes and is certified to fly and operate drones. Matthew also has a slew of hobbies. He is an avid builder and has built metal and wooden projects, even a metal armory suit based on the Mandalorian with his design. Matthew is excited to attend college and enroll in a variety of classes.
Not only did we have the opportunity to interview students, but we Pine Cove Staff hand-delivered scholarships.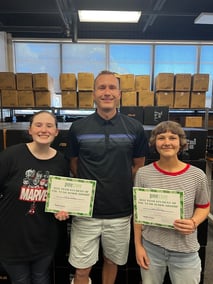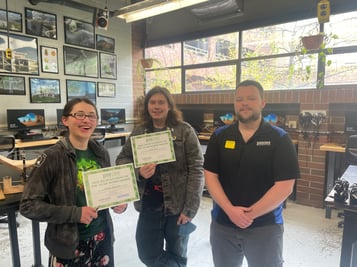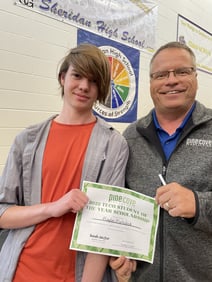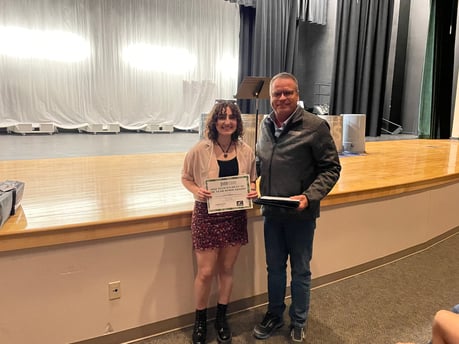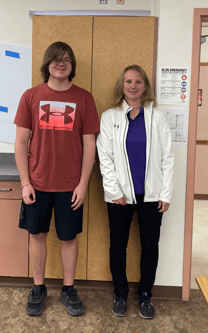 Congratulations Everyone! We were very impressed with the amazing work you have already accomplished with technology and can't wait to see how you will continue to contribute to the technology community for years to come.
Tech Student of The Year Winners:
Cedric T.

- Red Lodge High School, MT

Zia R.

- Tongue River High School, WY
Nolan A. - Worland High School, WY
Kaitlyn B. - Hellgate High School, MT
Sara W. - Murray High School, UT
Waylon W. - Sheridan High School, MT
Camden L. - Gallatin High School, MT
Jacob B. - Bonneville Joint School District, ID
Matthew S. - Buffalo High School, WY
Kylie A. - Heritage High School, CO
Gracie B. - Lima Highschool, MT
Avrey C. - Whitehall Highschool, MT
The following honorable mentions will receive a $250 scholarship each:
Aiden D. - Absarokee School District, MT
Jahrone K. - Culberston High School, MT
Landen S. - Lovell High School, WY
Ty H. - Fort Washakie High School, WY
Sawyer B. - Estes High School, CO
Grant A. - Shepherd Highschool, MT
Trevor W. - Vision Charter School, ID
Jacob H. - Hellgate High School, MT
Mary S. - Murray High School, UT
Sebastian C. - Absarokee School District, MT
For those that nominated students, thank you. We will be doing this every year so start your search for whom you want to nominate next year. The future of technology truly is bright with these excellent students leading the way.