Missed the Webinar on Sophos?
During this webinar we spoke with Paul Zindell, an engineer with Sophos, who gave us an overview of the software.

If you don't have time to watch the webinar, here are some takeaways:
A little about Sophos:
Founded in 1985
Currently outgrowing the market
Over, 200,000 customers and 100M users
90th percentile in best in class renewal rates
Partnered with Cisco, IBM, Juniper, Lenovo, Citrix, and Rockspace
Exclusively focused on business security (no consumer products)
Only vendor in Gartner leadership quadrant – endpoint, data protection, UTM markets


Why we're partnered with Sophos:
Partnered for 10 years focusing on antivirus
Simplified security – not only computer protection but network level of protection (content filtering, email)
Integrated technology – all forms of security on one platform


Sophos Complete Security
Network Security:
Next Gen Firewall- most robust and most tools
o Can be virtualized- don't have to buy firewall
o Flexible
Anti-malware and IPS
URL tracking
Network access control
Wireless
VPN
Anti-spam
Email encryption
Server Security:
Anti-malware
Server lockdown
o Whitelisting technology - locks affected server down
Webserver protection:
Virtualization
App control
V-shield
End User and Device Security:
Very user-centric security
Anti-malware
Mobile
Encryption
Patch assessment
Application control
Device control
Encryption for cloud
Endpoint web protection

Sophos Cloud
Sophos cloud is a cloud-based platform, created so users can manage all security health offerings. It was built from the ground up, with 99.96% uptime. The cloud is functional for all end-users to manage security offline.
The Endpoint Agent- how Sophos is working on your devices: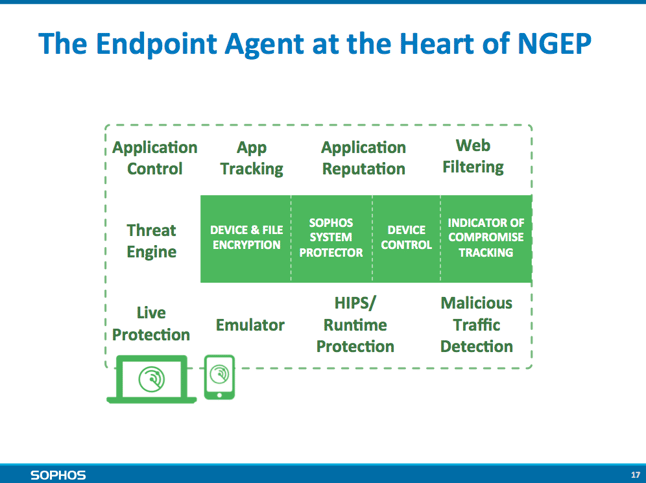 Enduser and Network integration to protect against advanced threats: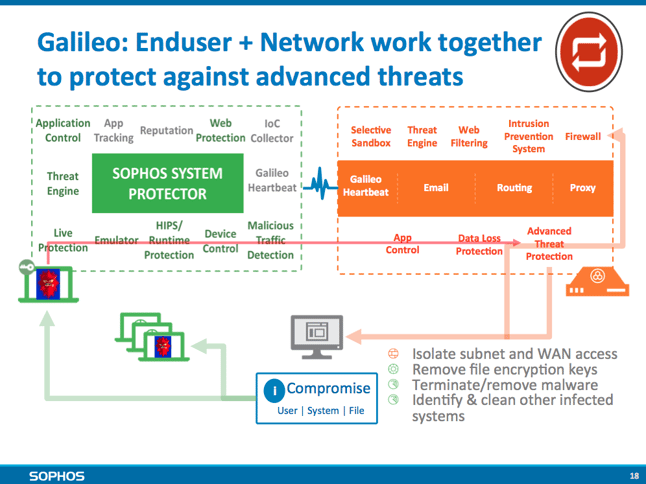 Client is in constant communication with firewall
Firewall can quarantine advanced threats of malware
Encryption solution (safeguard) can remove file encryption keys locally from device
Terminates and removes malware
Identify and clean other infected systems


Why we recommend Sophos:
They focus on research.
Sophos facilities do 24-hour a day research, looking for new malware and ways people break into networks
Global threat research labs
Top-tier management.

Management of Sophos were top managers in highly renowned companies before turning to Sophos

Most OEM antimalware engine.
They are diverse.

From small business to large corporations, Sophos protection works for any business

They offer 24/7 support
One source for IT security health needs.

Network/UTM, Wireless, Anti-malware, web, email, mobile

Simplified and cost-effective.

User licensing instead of computer for multiple device protection
Bundle options

They are first-movers.

One of the only vendors in the world that integrates detection and enforcement across endpoint, mobile, network, wireless, and cloud

Simplicity is key.
Easy protection from end-user's perspective
Seamless to end-user
Administrator should understand the interface easily
10. Sophos is Next-Generation Threat Protection
Security must be comprehensive
Security can be made simple
Security is more effective as a system
Integrated technology that keeps them ahead of the game in malware protection
Simplicity of management for end-users
Integrated technology
"If it's complicated, it's not useful." – Paul Zindell (Sophos)


---
Check out the second Webinar in this series! Sophos Networking Security