Summer is the busiest time of year for Pine Cove Consulting's engineers and project team. It is the best time to make any major technology changes in a school district. Every year I see similar changes happening across all of our school districts. They all seem to be doing the same upgrades at the same time to solve problems. So, what problems are our school districts currently running into and how are we solving them? Here are our top three areas of focus this summer:


New Devices
Pine Cove has sold thousands of Chromebooks over the past few months. The ease of use, ease of administration, and low cost of these devices make them very popular in schools. Anytime you add a bunch of new devices into the mix, you have to address the network. The technology built into these new devices are driving the need for new networking and wireless equipment that can handle new network protocols and speed (802.11ac).
What are our IT solutions for a bunch of new devices coming on the network?
Upgrading networks and infrastructure. If you are interested in adding new devices or more of them, please call our network consulting team and we can help you plan a successful deployment by utilizing our "Wheel of Technology Planning" to make sure it is done right the first time.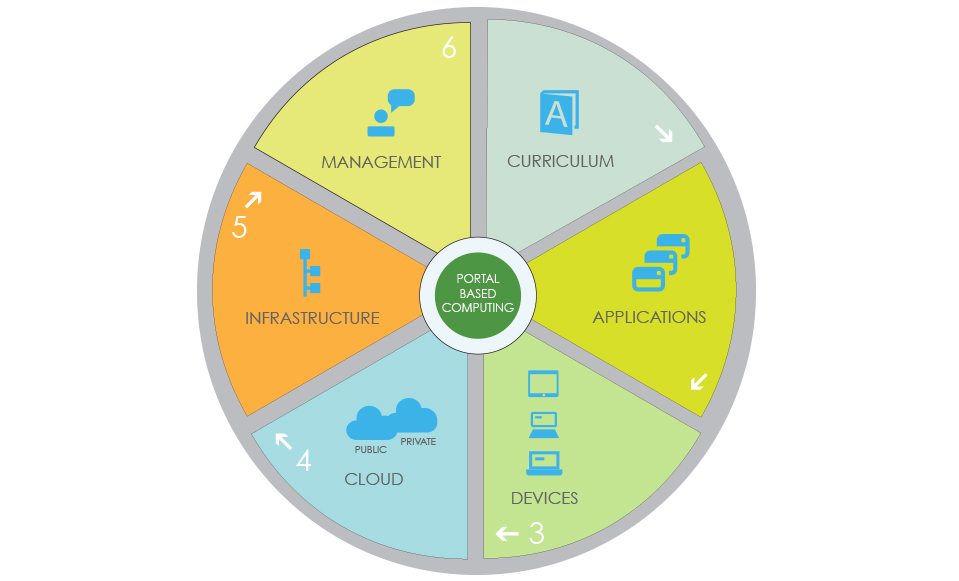 Security
Believe it or not, schools are more vulnerable than most businesses when it comes to their security health. Most people working at companies know not to visit questionable websites or click the link in the email to help the Nigerian Prince get his money out of the country. A 4th grade kid on the other hand is not as knowledgeable about safe internet usage practices. From my view, the main security problems in school settings are often caused by internal users. You are leaving a lot of holes in your security process if you only have a firewall and an endpoint antivirus software installed on all of the district machines. Another thing to consider is that kids bring in their personal devices and connect to your "guest" wireless network. Worse yet, they connect to the main wireless network of the district because a teacher gave out the password one day when they were trying to get on the network. At this point, that device is behind the firewall so it cannot stop the incoming threat. Many times end-user devices are infected by viruses and malware which can spread to other devices on the network including your main servers, if your network is not segmented properly.
What have we been doing to fix this?
This summer, we have installed 10-15 Sophos Unified Threat Management (UTM) appliances in our districts. They are not just a firewall. It is a complete security solution that incorporates email, server, web, network and endpoint protection. It can also run a fast, secure and cost-effective wireless network. Having one pane of glass to manage all of these aspects of security across the network means that you have an intelligent system that works together to combat threats and can help you sleep better at night. It also means less administration from your technical staff.

Watch one of our webinars by Sophos:
Webinar 1: Simple Security is Better Security
Webinar 2: Sophos Network Security health

Virtual Desktops
We have done several new deployments of virtual desktops across Montana and Wyoming. In a school setting, managing desktops is literally a full-time job. Teachers, staff and students are always running into issues with their computers. Using VDI, we can significantly reduce the administration time required to provide Windows desktops to all of your users. Every time a user logs in, they have a fast desktop that doesn't get bogged down over time. If they mess something up…they just restart the desktop and it is brand new again. It makes having master images way easier to manage and updates are done once on the image instead of on every computer. Another benefit is that all of the data is stored on the server instead of the individual workstations, so it is way easier to backup and manage. If you use computer labs in your school, it is definitely worth investigating VDI as a solution.
Find out just how important is technology in education from other school districts.
Justin Hill – 406.294.5471 – jhill@pinecc.com