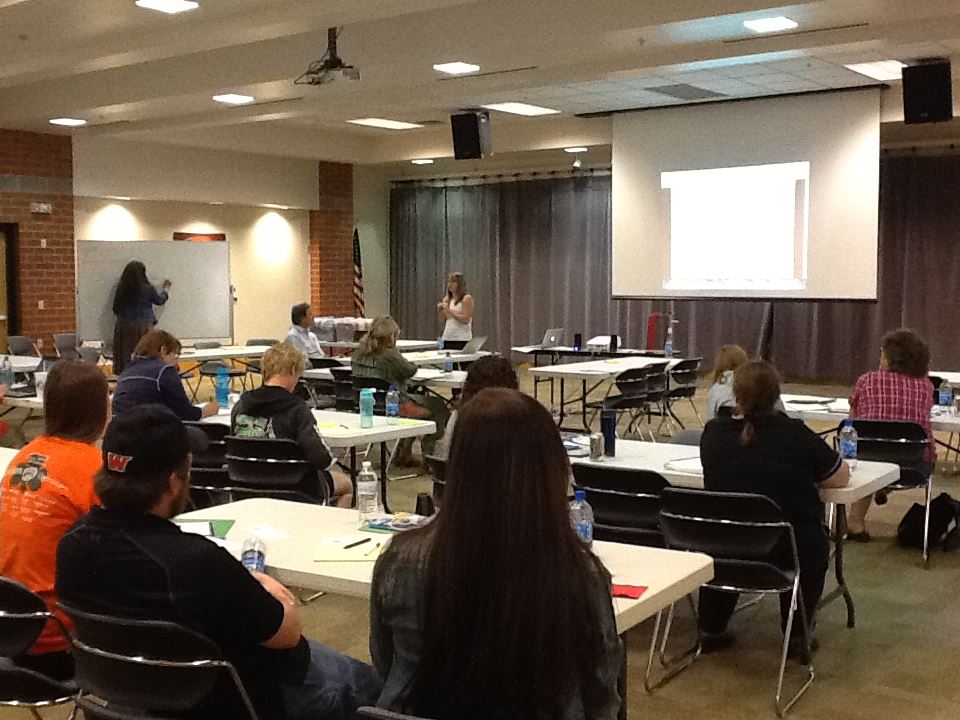 We spoke with technology trainer, (and Pine Cove Partner) Lindy Hockenbary, owner of InTECHgrated Professional Development on the topic of professional development in schools. She explained the importance of professional development in schools and what's professional development doing for your teachers and students.
What is professional development?
According to Austin Community College, professional development is defined as the continuous process of acquiring new knowledge and skills that relate to one's profession, job responsibilities, or work environment.
What is professional development doing for schools?
While the older generation of teachers may not have used technology when they were in school, it has become an imperative learning tool for this generation of students. Professional development and training courses are meant to help teachers and students get the most out of their technology.

In order for students to learn efficiently through current devices, their teachers have to be properly trained. What does a technology training look like? Hockenbary gives us some insight:
Training varies between schools – some schools and faculty are more streamlined with technology development than others.
For more remote schools, training typically happens in 1-2 full days or via distance learning such as video conferencing. For closer schools, training can be more split up.
Separate training sessions can be conducted depending on comfort and skill level.
It's easier to address issues and new technology ideas when teachers are up-to-date
Some schools suggest topics that they would like to learn, and others have no know where they are in their knowledge. Either way, trainers have the ability to see weak areas and help strengthen teacher and faculty abilities where they need it.
Each school has a unique culture, which is why training is tailored to each school's needs and learning
The problems with implementing change:
Schools spend hundreds of thousands of dollars on infrastructure. Hockenbary often hears teachers say they don't use some of these expensive devices because they don't know how to use them, resulting in a waste of money and disadvantaged students.

What is the point of investing in this expensive technology if your teachers can't use it to transform teaching and learning?

Trainers like Hockenbary see these common problems during technology training:
Faculty that doesn't want to learn Resistance to new instructional methods
Teachers that don't want to be told how to use technology
Teachers that don't want to utilize Resistance to new technologies
Feelings that they teachers don't have a voice in the changes being implemented


The importance of implementing change
When it comes down to it, teachers learning technology isn't for the teachers, but for the students. But if the teachers aren't learning and utilizing technology in the classroom, neither are the students.

When it comes down to professional development training, our trainers make sure to explain how new technology affects:
Learning
The classroom
The teachers


Importance in frequency of visiting schools
Spending a few thousand dollars on training per year is an important part of the budget when investing in technology:
Schools should set aside time and budget for incremental training days, for when:
New devices are installed
New features are implemented
New ideas are being generated for teaching with technology
Teachers seem behind or have questions
Teachers are not utilizing the technology properly
The "one and done" approach to training does not work.


Hockenbary explains that it is important helps to understand apply the innovation/adoption curve to the concept of professional development and learning. Over 50% of your teachers won't implement the training after just one day:

Lindy Hockenbary breaks it down for us:
"The adoption curve outlines that, on average, 16% of people will change or adopt new practices no matter what (these are the innovators and early adopters). 34% are the early majority who will most likely adopt change with basic training and a little push guidance from the innovators and early adopters. 34% are the late majority who will typically only change/adopt through peer pressure or if it is a proven necessity. Then, the last 16% are the laggards who may never change.. They will take as long as possible to change.

This is really handy when planning a professional development program. For example, it is important to think that 16% of teachers are going to change with a little bit of training and support. These are the ones that handle the one training. The other 34% will follow their lead and change with a little more training and support and if it is very clear how it impacts them for the better. Then, there is the late majority that are going to take a lot longer and need a lot more training. This 34% need more intense training and lots of follow-up in order to make instructional change."

Our Approach
Hockenbary explains that teachers often teach the way they were taught. Therefore, which is why adopting technology in the classroom can be difficult. During our professional development training, we bring teachers to the student side of the classroom, where they learn experience technology lessons as a student. For example, when implementing Google Classroom, Hockenbary will model the use of the tool first. Then, teachers walk them through the entire process of creating an account, turning in assignments, creating folders, among many other useful tips.can learn how to use that tool from the teacher perspective.
This hands-on approach helps teachers learn the process, instead of having to listen for hours and then trying to jump in and remember what all was said.
With regular follow-ups, customizable learning and topics, teachers will be able to not only run new technology, but teach integrate into their classroom instruction to their students. In the end, the students are the most important reason for investing in infrastructure. Which is why implementing technology and professional development is absolutely necessary for successful learning.

Want to learn more about professional development and training options? Contact us!