Missed the webinar and don't have time to listen?
Here are some of our key takeaways to help prepare your school for online testing, whether it's this year or next year:

Pine Cove Consulting is here to help.
First and foremost, we serve to be your technology consultant and planner. We offer networking management, network specialization, distance learning, data backup and disaster recovery, staff augmentation and communication.

We serve 14,000 end users and help schools to receive over $6 million in federal grant funding.
Online testing can be a major struggle, and we want to find the best way to help.
We want to offer helpful solutions to your specific issues with testing. What are your major pain points? The best way we know how to help is to hear from our clients. That way we can diagnose your problems. Many of these strategies are not complex, but rather simple things we can do to maximize testing environments for our students.
Simple solutions for better online testing and beyond.
1. Wireless and Wireless Management
Turn off/on WiFi in certain areas – control your connectivity issues by turning off Wifi in areas where students are not testing. This reduces conflicts and bottlenecks with connectivity and bandwidth.
Turn off WiFi completely – turning off WiFi on all wireless devices except for testing labs, especially if students are only testing in one room/lab.
Cloud-based wireless management – allows for a central control and scheduling WiFi times in certain zones. Scheduling can allow for better connectivity at certain times with turning off/on wireless printers, guest access, and test times.
2. Firewall and Layer 7 Traffic Shaping
Throttling Applications, Devices and Sites – bandwidth is often not unlimited, so throttling apps and sites can help control and prioritize bandwidth.
Traffic Shaping – What can you do to help your slow network? Controls can help you see where your bandwidth is going and control where it needs to be redirected (ex. Moving YouTube/Pandora/iTunes traffic to less megabytes instead of unlimited).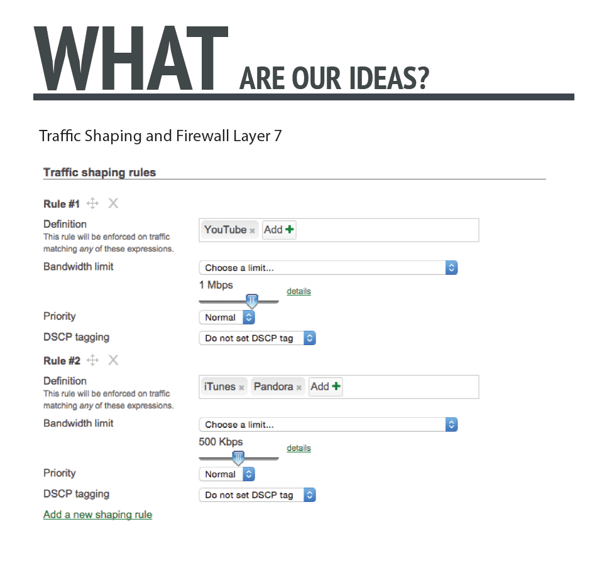 3. MDM and System Management Tools
Allowing/disabling webcams, chat windows, voice dialing, etc. at certain times. MDM and system management tools can go beyond testing.
Restrict certain small things that affect connectivity in a centralized location instead of disabling on each individual device.
Have unanswered questions? Contact Pine Cove Consulting for further assistance on your specific issues. We want to provide the best advice for your district's future testing.