It's time for the annual release of our Montana cyber-security report! This is a report we've worked hard on putting together that, on a high level, outlines the state of cyber-security in Montana by sharing the number of people affected by cyber-breaches, the number of organizations affected by cyber-breaches, and the average length of cyber-breaches in Montana in 2019.
This comprehensive report is designed to educate Montana organizations and leaders on the importance of having sophisticated cyber-security solutions. In 2019, we saw a record number of organizations fall victim to cyber-breaches that affected hundreds of thousands of Montanan resident's precious data.
New to the 2019 Report: Year-by-Year Comparisons
New to this year's report, we've added year-by-year graphs to show the progress (or lack of progress) on cyber-security solutions in Montana.
For example, the graph below shows that the number of organizations that have fallen victim to a cyber-breach that has effected Montanans, has grown steadily since since 2015.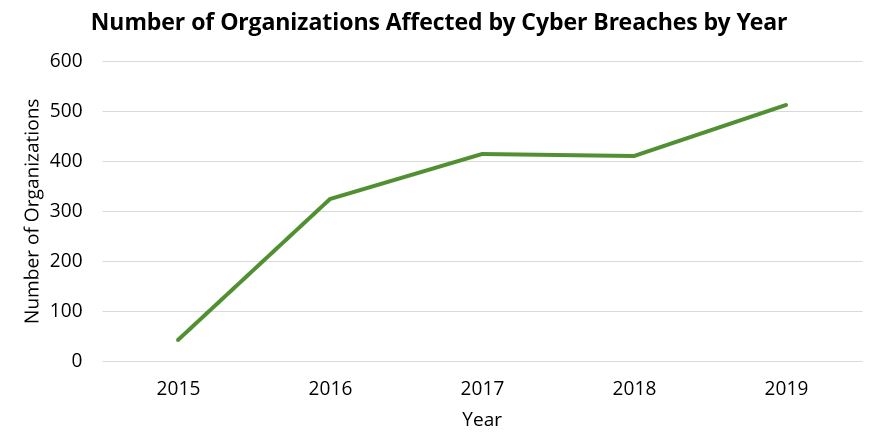 This is just one of the many graphs we have added to this year's report. We hope this addition gives you a greater perspective on the state of cyber-security in Montana.
Takeaways
Cyber-security isn't something you can really check-off a list. It is something that deserves time and attention. Hackers are constantly evolving and coming up with new ways to circumvent your network protection. So proper cyber-security protection includes education of cyber-security issues, regular monitoring of your cyber-security protection, and upgrading your solution as necessary. We hope this report will aide you in your journey to become secure. Let me offer a few action-items for you:
Read it! This report is 16 pages of concise and important information regarding the state of cyber-security in Montana. There is a lot of information in here that can assist you as you work to secure your assets.


Share it! Sharing this report with colleagues, friends, and on social networks can help all Montanans be more cyber-secure. We hope this piece of education will aide us all in decreasing these numbers for years to come.


Act! Hackers don't care if you live in rural country or in the big city, they only care whether or not your network is vulnerable. Companies who are trying to balance the risks of a cyber-breach with the costs associated with securing their organization, don't understand cyber-security. Taking unnecessary risks means putting your reputation, financial security, and precious data at risk. Far too many organizations believe they can get by another year without cyber-security. Don't risk it! Proactive protection is significantly better than reactive regret.
Click the button below to download the report!