Pine Cove Consulting was founded by educators in 1993, and continues to serve school districts across the United States. The Tech Student of the Year Scholarship was created in 2018 to support the next generation of IT leaders. Unlike traditional scholarships where students apply, this scholarship requests nominations be made by school leaders and administrators for deserving graduating high school seniors who will pursue a career or degree in a technology-related field. Pine Cove receives dozens of nominations each year and is awarding more scholarship money this year than any year in the past.
This year Pine Cove received a record number of nominations and is proud to announce the awarding of the Tech Student of the Year Scholarship to three students, along with 15 honorary scholarship recipients.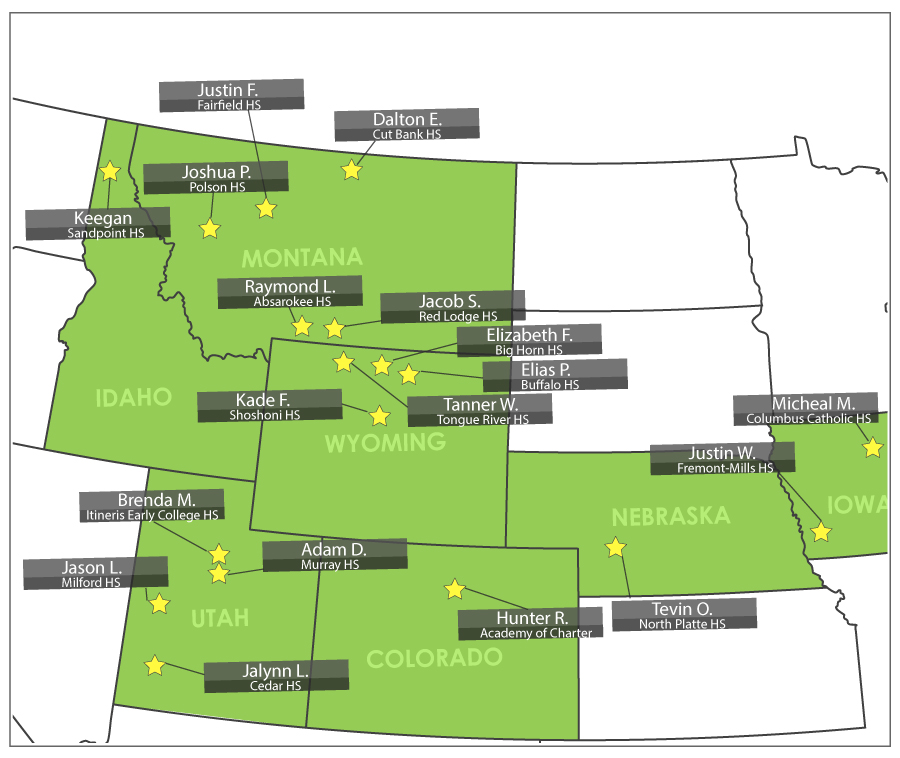 "We are proud to support the next generation of IT leaders," said Brandon Vancleeve, Pine Cove Consulting president. "It is amazing what these students are accomplishing at such a young age. The students on this list have some remarkable technology accomplishments which include coding unique applications, assisting with on-campus IT support, obtaining IT certifications and so much more. We are excited to see what these students accomplish in the coming years and are thankful to the administrators who nominated them."
Pine Cove Consulting is naming the following three students as the Tech Students of the Year for 2021. Each will receive a $500 scholarship towards their continued education.
Justin W. - Fremont-Mills High School, IA
Justin will continue his education at Wayne State College in Norfolk Nebraska where he will enroll in a cybersecurity program. Justin served as a student assistant in his high school's technology classes, and is one of 10 students to serve on the Iowa Communication Network's Statewide Youth Broadband Advisory Council. On top of all of that, Justin has already earned several cybersecurity certifications.
Justin F. - Fairfield High School, MT
Justin will continue his education at Carroll College in Helena Montana where he plans to earn a degree in computer science. As a student at Fairfield High School, Justin coded an app that allowed students to schedule appointments with the school counselor. He also coded an app that helped students organize their Zoom links throughout the pandemic.
Elias P. - Buffalo High School, WY
Elias will be continuing his education at the South Dakota School of Mines where he will pursue a degree in computer science. Elias has a passion for learning many different languages of code. He was known in his high school for his assistance in debugging his classmates' code. His nominator described him as having a natural talent and ability in the area of computer science.
Watch our interview with the three Tech Students of the Year below.
The following honorable mentions will receive a $100 scholarship each:
Brenda M. - Itineris Early College High School, UT
Jacob S. - Red Lodge High School, MT
Joshua P. - Polson High School, MT
Jalynn L. - Cedar High School, UT
Tevin O. - North Platte High School. NE
Kade F. - Shoshoni High School, WY
Raymond L. Absarokee High School, MT.
Adam D. - Murray High School, UT
Keegan N. - Sandpoint High School, ID
Hunter R. - The Academy of Charter Schools, CO
Micheal M. - Columbus Catholic High School, IA
Tanner W. - Tongue River High School, WY
Dalton E. - Cut Bank High School, MT
Jason L. - Milford High School, UT
Elizabeth F. - Big Horn High School, WY
Pine Cove Consulting wants to again thank those that nominated the students for this award. Pine Cove looks forward to reviewing more nominations in springtime 2022!
To learn more about Pine Cove Consulting's scholarship, click the button below.