For most of 2015, Pine Cove has been discussing the changes taking place with E-Rate 2.0. Most of our E-Rate schools and clients have become aware of how the new model affects their budget and are taking advantage of the changes.
At the beginning of November, Pine Cove hosted a webinar with Sophos representatives to clarify changes to E-Rate 2.0 for the upcoming year, and what services Sophos has to offer qualified schools.
This Webinar is about 59 minutes long — if this is to long to watch, you can read through the summary below.

Want a refresh on E-Rate 2.0? Read our posts here!
Below is an overview of what Sophos had to say.
You can find a blog recapping E-Rate changes here.
What are Sophos Components available with E-Rate?
Firewall Hardware – many different models and options.
Network Protection Updates – IPS, pattern updates, DoS/Flood Protection, SSL VPN and remote access, advanced routing, WAN load-balancing, and detailed network protection reporting.
Wireless –Sophos Firewall is the wireless controller.

Add wireless APs for coverage.
Configure security policies specific to each zone.
Support – Offers 24/7, 365 day support with advance next business day replacement.
Firewall Components for Security:
Routing
Email Security
Web Filtering
Intrusion Prevention System
Threat Engine
Proxy
Selective Sandbox
Application Control
Data Loss Prevention
ATP Detection
Security Heartbeat
Sophos Firewall Interface at a Glance
A new interface was released on the 9th of November. The new interface involves a better user experience, clean, intuitive dashboard that makes for easy navigation and analytics for users, and detailed reporting on any criteria.
Important Applications:
Security Heartbeat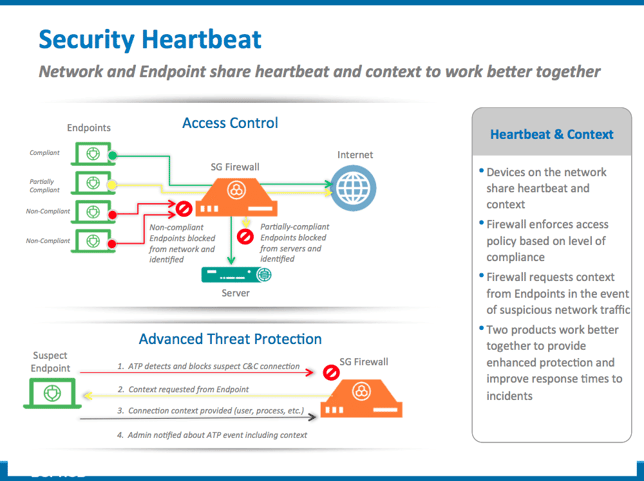 Security Heartbeat is a brand new application with the new interface. Its main function is to connect endpoint security clients to the firewall.
Communicates and sends findings to the firewall.
Health status changes to warn users.
The only company in the industry that does this.
User Threat Quotient
Reporting that shows who the "problem children" (high-risk web users) are.
Built-in policy templates
User friendly
For common business applications
Easy evaluation modes to test out Firewall
Models
SG Series Models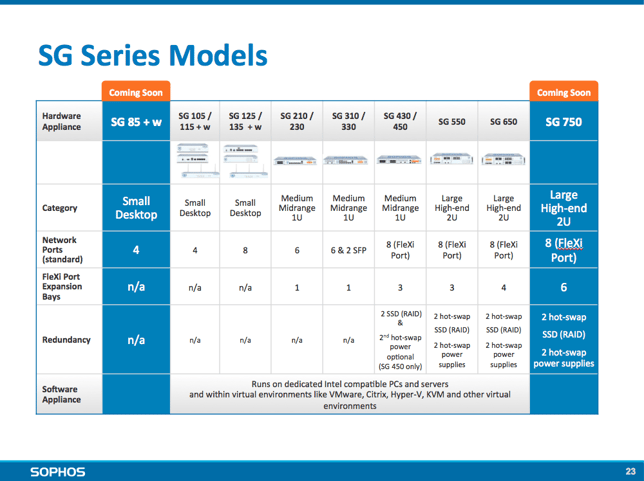 No matter which model you use, the firmware, functionality and features are the same.
The only difference in models is that they are tailored to how much throughput you need.
Central Management: Two options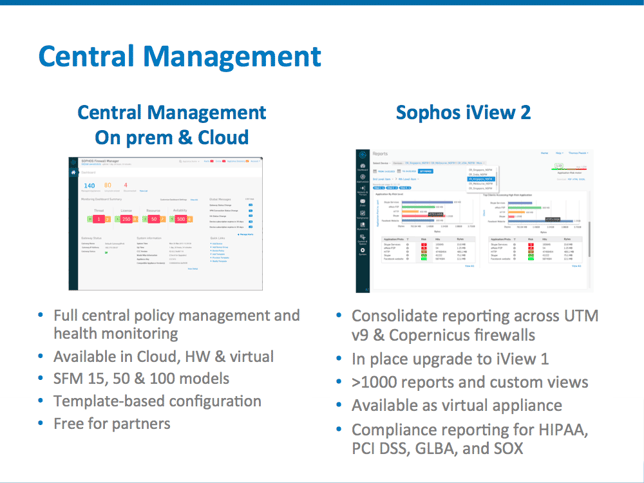 On Prem & Cloud
Sophos iView 2
Introducing: Sophos Cloud Endpoint
Endpoints are a line item on your budget. Not only can you use Sophos to protect your network and everything surrounding, but Sophos also offers endpoint security. Once you use a portion of E-Rate's Category 2 budget to get your wireless and firewall taken care of, you'll want to protect all components surrounding security.
Sophos users who buy Firewall and endpoint security receive bundling discounts, which can also help free up budget money.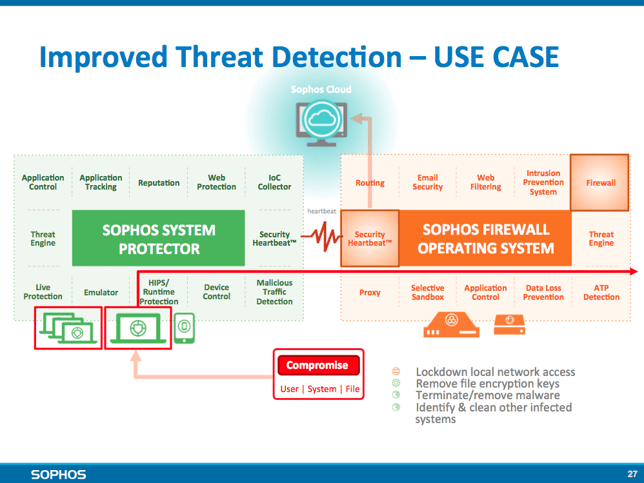 Why does Pine Cove think Sophos is the best solution for our schools?
Dan Russell concluded with a short explanation on why Pine Cove has partnered with Sophos for so long, and why we think Sophos is the best option for our clients. It's this simple: "Sophos has the best user experience, interface, and central control system for wireless protection, network protection and now endpoint security."
What Should you do Next?
Get in contact with one of your Erate Consultants if you have further questions or need advice or check out the usac erate page Pine Cove are NOT Erate Consultants
Request Firewall Hardware, Network Protection, Wireless Software, Wireless Apps and Support on your next E-Rate Submission.
Remember to use Pine Cove Consulting for the installation process. Our experts make for seamless technology transitions.
Contact Pine Cove. We can help scope Sophos Solutions or for any other E-Rate related questions contact Brandon Vancleeve at bvancleeve@pinecc.com
Want to learn more about E-Rate Changes? Click Below