Erate Priority 2 Changes
The Priority 2 name will be changed to Category 2.
Category 2 funds Wi-Fi and related infrastructure/equipment. As said before, Category 1 services will be funded first.
If not enough erate funding is available to cover an entire discount, pro-ration will be applied. The NSLP percentage will be used.
The annual budget target of $1 billion minimum will be used.
Not all applicants will be funded the year they apply, and there is no revision to allow applicants to spend funds and be reimbursed on a later year.
The FCC plans to reach 10 million students between the years 2015-2019. Schools and libraries will have access to Category 2 funding every 5 years.
Discount Matrix Erate Changes
The maximum Category 2 discount will be changed from 90% to 85%. All other discounts will remain the same.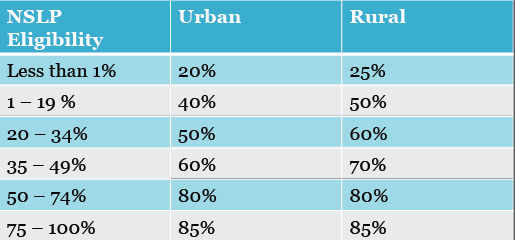 Funding Budgets
Each school building can apply for a pre-discount cap (over a 5-year contract):
$150 per student
Min. building cap of $9,200
Money will be allocated per building, not on a district-wide basis. Applicants will not be able to move funding from one school to another, however, funding may be requested over five years or applied for in a single year. As said before, annual application is required- and funding approval is subject to available funds each year.

If an applicant requests less than the maximum budget per building in a single year, the applicant may request remaining balance in the following years of the five-year cycle. All competitive bidding requirements will continue to apply, and applicants can still only apply for what they need.

Eligibility Changes
In 2015, Erate Category 2 eligible services will become focused on Wi-Fi, building infrastructure, and networking. Certain equipment and services will be permanently eligible, and other equipment and services will be eligible for 2015/2016, but might end unless FCC chooses to extend its eligibility.

Ineligible equipment:
Voice components
Video components
Most servers
Permanently eligible equipment:
Routers
Switches
Wireless Access Points
Internal Cabling
Racks
Wireless Controller Systems
Firewall Services
UPS Equipment
Software to Support Eligible Equipment
Cloud-Based Functionality of this Equipment
Eligible equipment for 2015/2016:
Caching functionality- necessary software or equipment
Managed Internal Broadband Services (MIBS)-Including managed Wi-Fi
Basic maintenance services for eligible equipment
Applicants are allowed to apply for up to $30 per year per student for these services and agree to a 5-year budget
Unless eligibility is extended, these items will lose eligibility at the end of 2016, with the exception of applicants receiving funding approval in 2015/2016 will continue funding for 2017-2019
New Schools
New schools will estimate the number of students who will be attending, and will receive funding based on the estimate. However, if an applicant overestimates enrollment, they must return to USAC by the end of the next funding year for funding changes.

Early Installation
Eligible equipment may be purchased and/or installed on or after April 1st before the beginning of the funding year. This provides the maximum amount of time during the summer to complete the installation.

Disbursements will not be made until July 1st or later. Applicants will not be able to apply for retroactive funding for equipment purchased and installed in years prior to the funding year.
Learn more about Category 1 changes here. To speak to one of our partnering erate consultants, call us!