Erate 2.0: Changes to Priority 1
First, the Priority 1 name will be changed to Category 1.
E-rate Category 1 funds broadband connectivity and internet access to buildings.
Category 1 will be funded before Category 2 e-rate funding. This is to make sure that all Category 1 funds will be covered with the available budget.
Ineligible Services
Beginning in 2015, paging, webhosting, telephone service components, and email will no longer be available.
All voice services will be phased out by 20% each year.
Voice services include: cellular voice, local and long distance, PRI and hosted VoIP services.
Voice services will be completely ineligible starting in 2019. Cell data and mobile broadband are subject to cost-effective inquiry.

Phase-Out Schedule of Voice Services: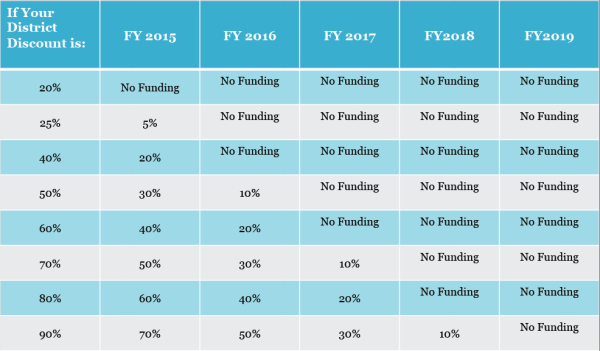 Wireless Data Plans
1. Buildings with Wi-Fi access are no longer eligible for cellular data plans or mobile broadband services.
2. Buildings without Wi-Fi are eligible for these services, but only if the individual data plans are the most cost-effective option for providing internal broadband access.
They also must prove that either installing a WLAN is not physically possible, or provide comparisons of the costs of individual data plans vs. installing a WLAN solution.
Districts should be prepared for extensive cost review from PIA. Library bookmobiles are an exception to additional review.

Bid Exemptions
Commercial broadband and internet packages costing less than $300 per month, per building (at a pre-discount) are now exempt from the Form470 competitive bidding requirements for 2015.
The minimum speed must be 100 Mbps downstream, and 10 Mbps upstream. The cost must be based per building and cannot be averages of multiple buildings.
The annual cost of $3,600 must include all equipment and installation charges as well as monthly recurring charges.
A Form 471 must be submitted for funding every year.
Bundled Equipment Limitations
Beginning in 2015, equipment is not allowed to be bundled at no cost with an eligible service. This includes free cell phones, iPads or tablets, and VoIP equipment.

Applicants are required to perform a cost allocation to remove the value of the ineligible equipment from the pre-discount price.

Want to know about Erate Category 2 changes? Here is our blog for changes HERE.