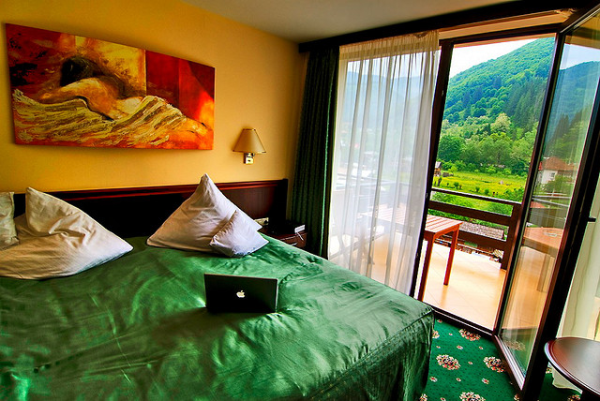 In a world where we are always connected, we expect to have internet access almost everywhere we go, even if we have to ask a random person what the password is. In the hospitality industry, fast, free access to Wi-Fi is a top priority in choosing a hotel and can often be a deal breaker if not provided. Especially for guests travelling on business, Wi-Fi is the most necessary feature of booking a room. Guests feel taken advantage of when they are charged for Wi-Fi, especially in mid to upscale hotels.
On the other hand, hotel industries struggle with not charging extra for Wi-Fi when it is such an expense to install, not to mention trying to maintain a high-quality service. Fast Wi-Fi can be difficult to uphold when so many people are trying to access it. That's why so many industries including hospitality are turning to cloud Wi-Fi.
Cisco Meraki cloud networking provides a higher quality, more innovative technology that's affordable to hotels and many other industries. It now operates more than 1,100 hotels across the United States, and has even provided for international businesses. They promise faster connections, greater user capacity, more coverage, and fewer support calls.
Cisco Meraki has created an easier way to manage daily tasks for clients. They use a web-based dashboard that controls troubleshooting, diagnostics, VPN setup, and other jobs. This form of network management can help large chain companies keep control of every hotel in one central place; and this in turn leads to a lot of money saved.
The Meraki MX security appliance has smart load balancing, which balances traffic between two ISP connections, maximizing WAN uptime. The Cisco Meraki dashboard allows for troubleshooting to be done from anywhere, and settings can immediately be applied to all affected hotels.
Cisco Meraki is able to serve thousands of clients while managing thousands of access points all over the U.S., and makes installation and management as easy and painless as possible for the hotel industry. Other solutions to a fast, high quality, yet inexpensive Wi-Fi is nearly impossible to find. Cisco Meraki makes budgeting simpler for clients, as well as giving guests the fast Wi-Fi they need. Cisco Meraki understands what both hotel companies and guests need, and is a leap ahead of networking technology.