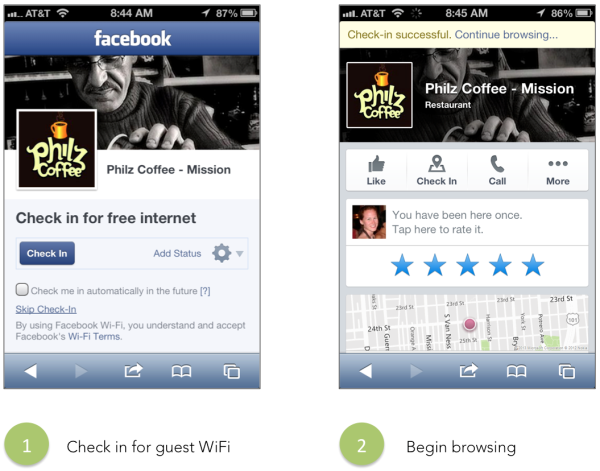 Photo: https://meraki.cisco.com
Cisco Meraki and Facebook have teamed up to create a Wi-Fi sign on with Facebook. This new innovative idea gives your guests a chance to access your business page in exchange for free Wi-Fi. Once they sign into Wi-Fi using Facebook, they are instantly brought to your splash page, giving you more brand awareness and getting to sell your deals and promotions.
Facebook integration with Cisco Meraki is easy and effective for both you and your customers. Your guests only have to remember their Facebook log-in, and you can promote your business page easily in just a couple of clicks.
When users check in, they can even share that they visited your location, giving you an easy online word-of-mouth marketing technique. They are also prompted to "like" the hotel's Facebook page after checking in.
PCC can walk you through creating a splash page to direct customers to your Facebook page.
You can also track your customer's activity in order to better understand what they want. With Cisco Meraki being connected to Facebook, you are able to access anonymous demographics that Facebook provides about users. This helps you find better ways to market your business.
We can help you track customer activity using the Cisco Meraki dashboard, so that you can better sell your brand and understand your guests.
Cisco Meraki makes security a top priority, and offers a number of tools that ensure the security of their network as well as the guests' information.
Facebook and Cisco Meraki specialists hosted a Webinar on this. For those wanting to learn more about Facebook/Meraki integration: Facebook WiFi with Cico Meraki
Using client demographic information to tailor user experiences
Increasing awareness through recognition on news feeds
Creating a smoother, more convenient process of granting WiFi access