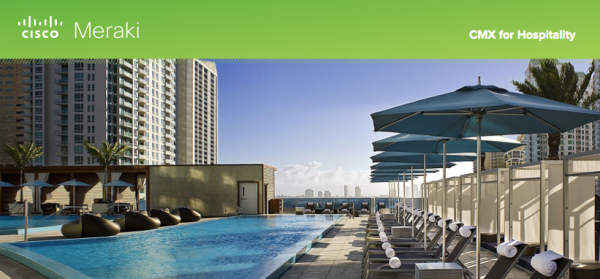 Cisco Meraki is always staying one step ahead of networking technology, and we know how hard that is considering how quickly technology evolves. They have just recently launched a new set of features that will enhance your network and customer experience. This new technology is called Presence, also known as CMX (Connected Mobile Experiences).
The new features for Presence include:
Real-time location metrics displayed in the Meraki Dashboard
Cisco Meraki WiFi with Facebook login
Presence API, allowing you to integrate real-time location data into your CRM and business systems
3rd party analytics integration
Allow us to explain.
Location Analytics Dashboard
Let's start with the location analytics dashboard. At no additional cost, the dashboard will display real-time metrics such as capture rate, median visit length, and visitor repeat rate for mobile devices. The location analytics dashboard captures this among many other statistics that measure the appeal, engagement, and loyalty of visitors.


As an example, the information on the dashboard can allow a hotel industry to make decisions about how to attract and engage guests. Hotels can use the metrics to gauge guest satisfaction, how many guests revisit your hotel, and many other helpful ways to track guest behavior. They would even be able to track peak hours for lobby staff. The dashboard has countless ways to help keep managers informed and maintaining an optimal place to stay for guests.
Cisco Meraki Wi-Fi with Facebook Login
Cisco Meraki and Facebook have teamed up to allow guests to login using their Facebook account, and from there they are able to "check-in" with the hotel they are staying at. This helps them be better engaged with the business, as well as see promotions and expand your hotel awareness to friends. More on Facebook-Meraki integration here: Facebook-Meraki-Integration
Presence API
This feature delivers real-time location statistics to your custom-built application. This gives unlimited flexibility for your business if you have certain requirements, or would like to customize your data a certain way. For example, you can prompt guest Wi-Fi users to enter phone numbers or email addresses to gain access, which leads to more engagement for you and awareness for your guests.
3rd Party Analytics Integration
Cisco Meraki's Presence API can be paired with many applications, including:
Euclid Analytics
Nearbuy Systems
WalkBase
Nomi
Swarm
Boldstreet Wireless
Purple WiFi
Cisco Meraki's integration with these applications allows your business the most flexibility, allowing you to view location data on the interface you prefer.
A Better Future for Your Business
Cisco Meraki Presence allows you to better track guest actions through easy dashboard analysis. This helps you better understand the impact of business changes, promotions, and what drives guest revisits. You can connect your Wi-Fi users via Facebook, making it easier for guests to login and see your business. With Facebook integration, you can even build anonymous user demographic and behavior. You can engage with guests by having a better way of communicating through social networking. You can reach customers by notifications, targeted online ads and direct sales.