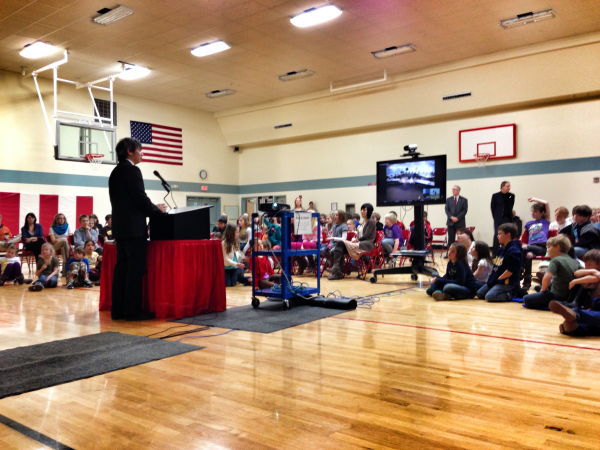 The RUS-DLT (Distance Learning and Telemedicine) Loan and Grant Program is designed specifically to meet the education and health care needs of rural America. Through loans, grants and loan/grant combinations, advanced telecommunications technologies provide enhanced learning and health care opportunities for rural residents. Entities providing education and medical care via telecommunications are eligible.
Learn how to utilizing technology grants for public schools.
Here's how two districts in Montana are utilizing RUS-DLT technology grants for public schools to implement distance learning programs to enhance the student experience:
Colstrip, MT School District is using video conferencing to enhance their Cheyenne language revitalization program. By using this technology, Colstrip is able to connect their kids and teachers to a college professor who utilizes the total physical response method to reintroduce Cheyenne students in their district to their language and culture. The kids really enjoy the interaction with the professor and his teaching method has created a championship Cheyenne language team. The professor is also able to share Cheyenne artifacts that can not leave the college with the students via video. Going forward, the district hopes to collaborate with other districts and schools to share resources to grow this language revitalization program. Colstrip has embraced this technology and is really taking advantage of it. Recently students were treated to Tango classes direct from a teacher in Argentina.
The 7th graders at Anderson School in Bozeman, MT were able to benefit from a recent 8th grade field trip to New York City. Using video conferencing the 7th graders were able to ride the ferry, see the Statue of Liberty and tour the city with the 8th graders. Anderson School has also taken a virtual field trip to the Baseball Hall of Fame and had a video presentation from a paleontologist from the Museum of the Rockies.
The RUS-DLT Grant Program is open to all rural schools looking to use technology to bridge the gap in teaching resources they have at their immediate disposal. By taking advantage of distance learning opportunities, any rural school district can provide students immediate access to the people, places and experiences that make a lasting impression.
Pine Cove has assisted over 145 schools receive over $6 Million in RUS Grant funding. Our grant consultants can help in the organization, implementation and procurement of your RUS Grant initiatives.