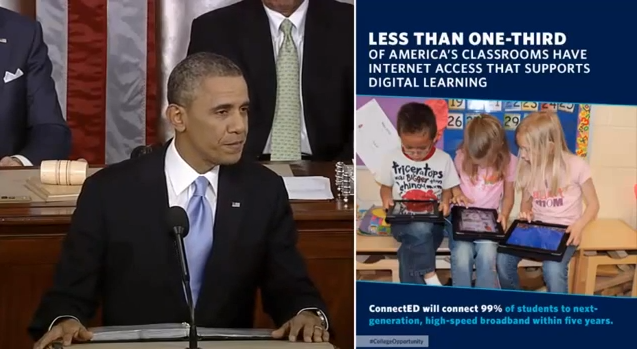 President Obama speaks about high-tech education at the State of the Union address. | Source: YouTube
The ConnectEd initiative is making progress via huge contributions from both the private and public sectors. On February 3rd, Apple, AT&T, Autodesk, Microsoft, O'Reilly Media, Sprint and Verizon committed funding, hardware and software contributions to the initiative of more than $750 million. A day later it was announced that the FCC will increase E-Rate support for broadband networks by $2 billion over the next two years while the Department of Agriculture will add another $10 million in grants.

HERE ARE THE DETAILS:
American companies are answering the President's challenge to "dig deep" in support of ConnectED to enrich K-12 education, expand opportunities for students, and train, a 21

st century workforce.
These commitments include:

Apple

– Pledged $100 million in iPads, MacBooks, and other products along with content and professional development tools to enrich learning in disadvantaged schools.

AT&T

– Pledged over $100 million to provide middle-school students free Internet connectivity for educational devices over their wireless network for three years.

Autodesk

– Pledged to expand the company's "Design the Future" program to be available to every secondary school in the country – offering for free over $250 million in value.

Microsoft

– Committed to launch a substantial affordability program open to all U.S. public schools by deeply discounting the price of its Windows operating system, which will substantially bring down the cost of Windows-based devices.

O'Reilly Media

– Partnering with Safari Books Online to make over $100 million in educational content and tools available, for free, to every school in America.

Sprint

– Committed to offer free wireless service for up to 50,000 low-income high school students over the next four years, valued at $100 million.

Verizon

– Announced a multi-year program to support the ConnectED vision through up to $100 million in cash and in-kind commitments.



A $2 billion down-payment by the FCC's E-Rate program to connect 20 million more students to next-generation broadband and wireless, beginning in 2014.

An additional commitment to rural schools with over $10 million in distance learning grants from the U.S. Department of Agriculture.



Source: http://www.whitehouse.gov/the-press-office/2014/02/04/fact-sheet-opportunity-all-answering-president-s-call-enrich-american-ed
The goal of ConnectEd is to transform and modernize the teaching and learning experience across the nation by ensuring that 99% of American students will have access to next-generation broadband and the tools that go with it by 2017. The initiative doesn't stop with access, ConnectEd will also invest in training and support for every educator in America to ensure they have the confidence to use technology to create an engaging learning experience that will help improve student outcomes.

The ConnectEd initiative is a collaborative effort by our government and our titans of technological (the companies who have created the technology most of us enjoy today). While funding that has been made available is a huge leap in the right direction, the responsibility of planning falls squarely on the shoulders of each district. In order to ensure that you are maximizing the return on your E-Rate dollars your school district will need to have a well thought out technology implementation plan. You should take the long-term view of your district, its growth rate, the end goal for the student experience and how quickly you want to get there. You'll want to partner with a team that understands your current technology situation and will listen to your goals for technology in your district.

As your partner, Pine Cove Consulting will guarantee the solution we provide today is aligned with the vision you have of your district in the future. We are an IT consulting company with twenty years of experience working with school districts to implement their technology plans. We can access and help you plan and implement a technology solution that will ensure your teachers and students benefit.