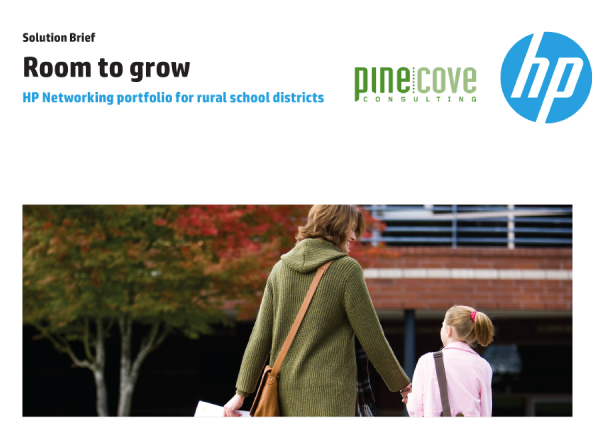 With the state of Montana having a handful of increasingly populated towns and hundreds of smaller towns spread throughout, the difference in technological advances is vast. Small, eastern Montana towns often have a hard time enabling fast, quality networks and staying on top of the fast-paced evolution of technology. This is why Pine Cove Consulting (PCC) has a main focus on servicing small-town schools with innovative and affordable networking, so teachers and students don't fall between the cracks when it comes to modern technology.
Pine Cove recently worked with two small-town schools, Colstrip and Sidney Public Schools. Both schools have issues with unpredictable enrollment, with Colstrip having a large energy industry and Sidney being a rich location for oil drilling and hydro fracturing. But often these towns see boom and bust enrollment figures that go along with the spikes and crashes of the oil and energy industries.
"Over the past couple of years, it's been common for us to get between 70 and 100 new students per year, but by the end of the year, we'll also lose between 70 and 100," says Steve Yockim, technology director for Sydney Public Schools.
The volatility in enrollment makes it difficult for the two districts to rapidly build housing and services for new residents, let alone stay on top of offering a quality education to a rising and falling student population.
Work in Colstrip Public Schools
With a combination of coal and electricity as the main source of Colstrip's wealth, energy trends make the town an unpredictable place to live. IT leaders at Colstrip Public Schools have struggled with finding ways to keep technology modernized, but not spend money on oversupplying students. Unfortunately, this is a reality that they couldn't seem to get away from. The district's network wasn't designed to deliver the flexibility or scalability district leaders needed.
After attending a regional workshop featuring Pine Cove Consulting, the Colstrip superintendent was fascinated by Pine Cove's seminar. "That workshop led to a five-year project and a great partnership," said PCC Vice President Brandon Vancleeve. With PCC's help, the school district soon redesigned its entire network.
Using VMware View and Devon IT's VDI Blaster software, the district then introduced centralized desktop computing to teachers, students and support staff. They eventually added 300 virtualized desktops to its campuses. With a virtual desktop infrastructure in place, the IT team has the flexibility to scale the VDI solution to meet whatever demands may come. An affordable budget has made it possible for the district to add 100 virtual desktops at a time, with the end-goal of virtualizing every machine possible, so students and teachers can access information and applications from any device they bring.
These solutions have led to less security issues, fewer support tickets and interruptions in classrooms. VDI also increased efficiency for larger projects and upgrades, leading to better productivity for the small staff.
Work in Sidney Public Schools
Located in northeastern Montana, Sidney is a popular place for the farmers, ranchers and oil drilling. However, Sidney has recently spiked in population due to the hydraulic fracturing mining industry. This has led to major oil booms which, in turn, led to large peaks in student population, making it difficult for the district to keep up technologically.
"We know we need to be very smart about how we do this. We have to build a solution that will be incredibly flexible so it can scale rapidly, but we don't want to overbuild it, either," Steve Yockim says.
The district made the move to redesign the entire technology infrastructure, and turned to Pine Cove for help. The team rebuilt the entire data center, virtualizing and consolidating servers onto HP ProLiant BL460 Server Blades with hypervisor software from VMware.
The HP server blades are mounted in a modular HP BladeSystem c7000 Enclosure, which houses both the district's virtualized application servers and its VDI solution, which delivers operating systems, applications and user settings for students, faculty, administrators, and support staff.
Among many other changes, Pine Cove Consulting was able to boost coverage by 50 percent, giving the district just under 100 percent coverage everywhere. The modernized server and storage pushed services at faster speeds and eliminated outages. The new wireless services now have the important flexibility to vary the number and type of wireless access points supported by the network. Because the district has built an HP Converged Infrastructure to virtualize delivery of end-user workspaces, those workspaces can follow the user from device to device without sacrificing a consistent compute experience.
"In five years, who knows what the technology landscape will look like? But I know the groundwork we've put in place can scale to handle whatever comes next," says Yockim.
A Brighter Future
For both districts, creating a new infrastructure and advanced networking system has made new upgrades and updates possible. Almost all students now carry mobile devices, and the networks are now given the flexibility to handle BYOD accessibility. Students can walk between networks and hardly notice a difference. With PCC's help, the schools can now have the fast, modernized technology without the fuss of constant, slow networking issues.
Having Pine Cove Consulting ready and available to help with upgrades, advancing technology the way the schools want has become a reality for the small districts. Pine Cove's work with HP systems gave back time to staff so they can have a reliable, fast network that is easy to operate. And most importantly, the schools have the flexibility for the boom and bust of their student populations.
Download the Case Study today!