A note from the Superintendent at Anderson Elementary School, Jeff Blessum:

On Thursday, January 31st, Anderson School students and teachers went to Kumamoto Japan and the Mifune - Town Museum through the lecture of Dr. Naoki Ikegami. His power point presentation showed slides of active volcanoes, dinosaur dig areas and future sights where dinosaur fossils could be found.
In addition, thanks to Pine Cove Consultants, Anderson students in Kindergarten and first grade and students in DuBois, Wyoming, were able to view the presentation with telepresence equipment.

Since receiving the $500,000 RUS Grant two years ago, Anderson School has purchased laptop computers, iPads, document cameras, servers and increased its bandwidth to meet the needs of the students and increased use of the internet. Pine Cove has been present every step of the way helping with configuration, software updates and hardware demands. When the server was down a quick call to Brandon Vancleeve brought immediate results or an honest answer, "I will check with Dan and get right back to you!"

Here is the Press Release for the event:
NAOKI IKEGAMI, Ph.D., CHIEF CURATOR AT MIFUNE DINOSAUR MUSEUM, KUMAMOTO, JAPAN, TO SPEAK TO SCHOOL CHILDREN AT ANDERSON SCHOOL, JANUARY 31.
January 9, 2013 Bozeman, MT – In July of 2012, Museum of the Rockies at Montana State University signed an agreement establishing Mifune Dinosaur Museum in Kumamoto Prefecture, Japan, as a sister institution with the Museum. In furthering the museums' joint efforts in cooperation and exchange of exhibits, research and educational outreach, Dr. Naoki Ikegami, Chief Curator at the Mifune Dinosaur Museum, will be speaking to second- through eighth-grade students at the Anderson School in Bozeman on Thursday, January 31, from 9:30 to 10:15 AM.
Dr. Ikegami's presentation, "Digging Dinosaurs in Kumamoto, Japan." will be about dinosaur discoveries in Japan as well as the collaboration between the Mifune Dinosaur Museum and Museum of the Rockies in advancing the exchange of research, culture and scientific information. Dr. Ikegami will be using a translator for his talk with the children.
"This will be a once-in-a-lifetime opportunity for our students," said Jeff Blessum, Superintendent of Anderson School. "Not only will this be an invaluable learning experience for the children of Anderson, but we'll also be able to broadcast Dr. Ikegami's lecture to other schools and their students at a later date."
In February of 2012, Pat Leiggi, MOR Director of Exhibits and Administrative Director of Paleontology, and Carrie Ancell, Senior Fossil Preparer at MOR, spent several days at the Mifune museum providing training and guidance to the museum's staff. Mr. Leiggi also spoke to Japanese students at a public lecture while there as part of the educational outreach and exchange between the two museums.
Dr. Ikegami will be joined by Mr. Shinsuke Masunaga, Executive Director, Mifune Dinosaur Museum and Superintendent of Schools, Mifune Town, and will be in Bozeman for several days working with MOR's paleontology department on their next combined fossil project.

Dr. Naoki Ikegami is a Japanese paleontologist and educator who serves as Chief Curator at the Mifune Dinosaur Museum in Kumamoto, Japan. After finishing graduate school at Kumamoto University in 1993, he spent a year teaching at the junior high school in Kumamoto City, followed by four years as a staff researcher and a supervisor at the Board of Education in Mifune Town. Since 1998 he has held a position at the Mifune Dinosaur Museum, and has served for the past several years as chief curator.

Dr. Ikegami's research is focused on the evolution of vertebrates and paleoenvironments in the Cretaceous Period, and he has conducted several dinosaur excavations near Mifune Town. His most current research is focused on the reconstruction of the terrestrial ecosystem in the early, Late Cretaceous of East Asia.

In 2011, he initiated the fossil preparation project with the Museum of the Rockies at Montana State University in Bozeman, Montana, and he is a chief planner for the construction of a new dinosaur museum in Mifune Town that will open to the public in April, 2014.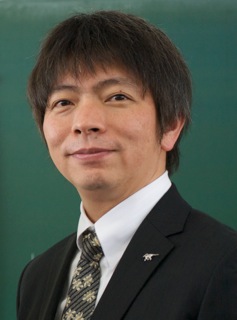 Click below to see how we can help your District in rural communities today!